Passing of Official Pay Raises
This topic contains 0 replies, has 1 voice, and was last updated by
Shane Rigdon 1 year, 4 months ago.
Viewing 1 post (of 1 total)
Author

Posts

January 31, 2016 at 10:06 am

#1135

Shane Rigdon

Participant

Fellow Umpires, Friday 1/29/2016 was a big day for all officials in the state of Louisiana. The restructured pay proposal agreed to by the executive committees of the LHSAA and LHSOA in July 2015 was overwhelmingly passed by the principals by over 90% in favor. It is the first time I can remember ever receiving any raise in a vote by the principals in their regular annual meetings. There were raises for officials in every sport, baseball and softball got their rain out pay reinstated that was stripped away last year as well as having many items clarified in regards to the baseball playoffs and the 2 out of 3 series. Everyone on both of these executive committees should be congratulated and thanked for their dedication and hard work in accomplishing this task.

This being said, now is the time for each and every umpire to put their best foot forward and show that these raises are truly deserved. Take some time to study your rules and mechanics books. Communicate with your partners. Approach your umpiring assignments in a professional manner. Be sure to dress properly in clean, pressed uniforms. You only get one chance at a first impression. Report to your assignments on time, ready to officiate. Treat coaches, players and fans with the utmost respect at all times and expect it in return.

2016 is setting up to be a big year for umpires with the changes that were voted in on Friday and we as members need to uphold our end and put our best foot forward.

Looking forward to a great year and better things to come,

Shane Rigdon
Baseball Representative Region 3
LHSOA Executive Committee

Author

Posts
Viewing 1 post (of 1 total)
You must be logged in to reply to this topic.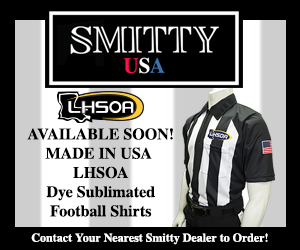 Upcoming Events